Auralee BRUSHED SUPER KID MOHAIR KNIT P/O - LIGHT PINK
$495.00 USD
A knit made of soft super kid mohair from South Africa, spun into a sweet twist yarn, the core yarn is also made of natural fiber wool.
It is light and pleasant to the touch, and features the unique luster and long length of mohair as well as the deep coloration signature to mohair.
KID MOHAIR
Selected out of the African continent's finest angora kid goats, the BRUSHED SUPER KID MOHAIR is used to bring out a vintage feel, characterized by its lightness and enveloping warmth.
Mohair is made by wrapping soft natural hair in a loose twist around a strong core yarn. These cores are usually made of nylon or other synthetic fibres, however, by using natural wool for the core, a soft texture without the stiffness of synthetic fibres is achieved.
AURALEE has a continuous process of trial and error in every single step of the garment process; from the creation of the warp and weft yarns to the knitting method and subsequent processing, to maintain the strength of the garment, while keeping the feeling of nostalgic softness.
The KID MOHAIR series, on the other hand, uses the same raw materials while achieving a completely different expression. The knitwear using kid mohair's ultra-fine tam yarn has a smooth texture without a prickly feel.
The technique of finely drawing the wool so that it is almost see-through is based on today's state- of-the-art technology. It is then knitted in a delicate high-gauge resulting in fabric like "yuba" (or tofu-skin). The yuba-like knitted fabric has a natural, deep earthy tone. The muddled shades harmonise with the weather and colours of autumn and winter, which could be further expressed through the layering in the collection.
The KID MOHAIR series will overtime slowly mold to your form and become more comfortable with use. They are made exclusively from precious natural materials, surely to become a familiar staple in any contemporary wardrobe.
KID MOHAIR 60% WOOL 40%.
Made in Japan.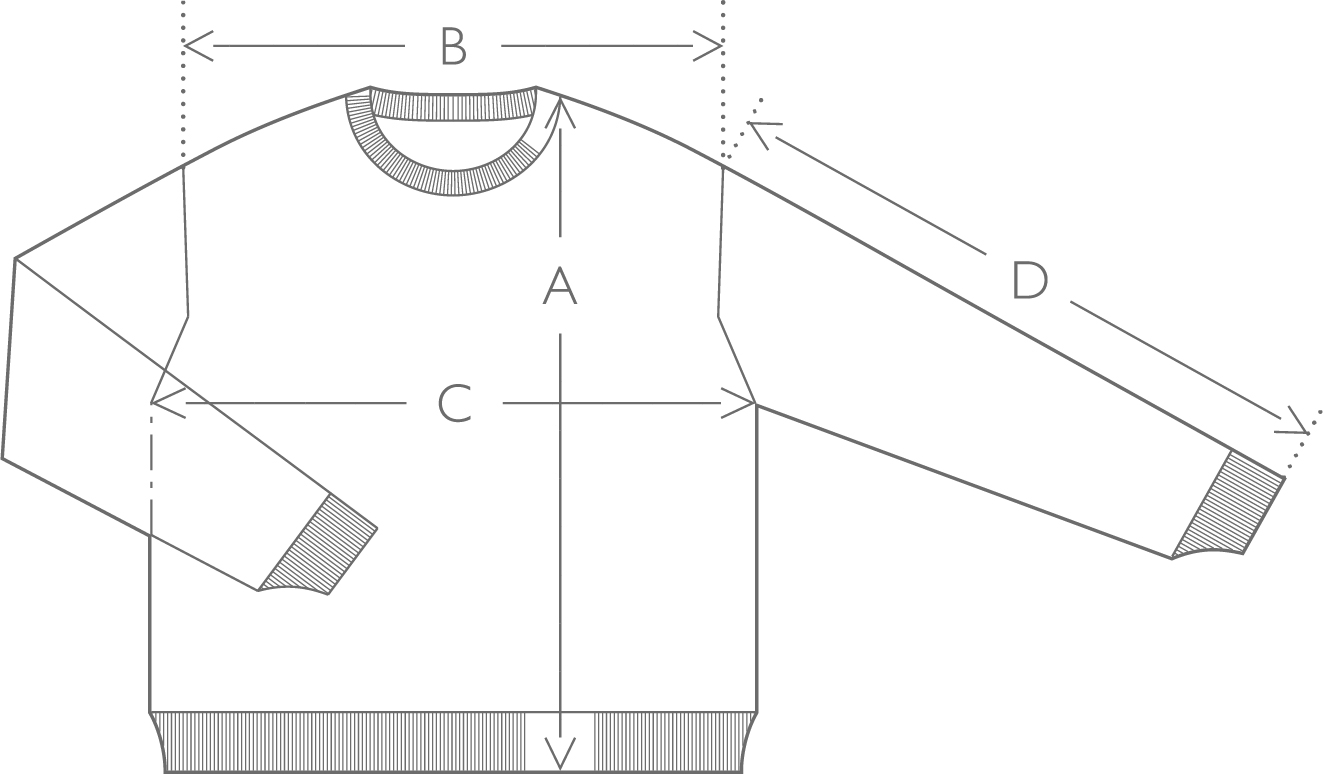 | | | | |
| --- | --- | --- | --- |
| BRUSHED SUPER KID MOHAIR KNIT P/O | | | |
| | 3 | 4 | 5 |
| Length | 25.7" | 26.5" | 27.3" |
| Shoulder | 20.6" | 21.4" | 22.6" |
| Width | 24.1" | 24.9" | 25.7" |
| Sleeve | 23.4" | 23.7" | 24.5" |
A: Length. Length measured from the back collar to the hem.
B: Shoulder width. The straight-line measurement from shoulder tip to shoulder tip.
C: Body width. Width measured between the bottom of the sleeves.
D: Sleeve length. Shoulder to cuff (including cuffs).
For any measurements or sizing information please contact totemstores@gmail.com